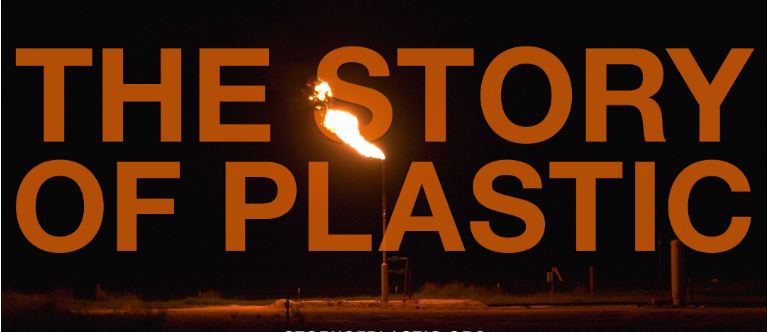 Free Film Screening of The Story of Plastic.
Available for the next 24 hours!
The Green Task Force, Recycling and Waste Reduction Subcommittee is hosting a film screening of the Story of Plastic. This incredible film is available to watch for free at the link below.  Please share with any avid recyclers and environmental stewards in your life.
 The link to the film will self-destruct on Friday, April 24 at 11:30PM so be sure to watch it before then!
About the film:

Produced by the Story of Stuff Project, The Story of Plastic takes a sweeping look at the man-made crisis of plastic pollution and the worldwide effect it has on the health of our planet and the people who inhabit it. Spanning three continents, the film illustrates the ongoing catastrophe: fields full of garbage, veritable mountains of trash, rivers and seas clogged with waste, and skies choked with the poisonous emissions from plastic production and processing. The Story of Plastic features interviews with experts and activists on the frontlines of the fight, revealing the disastrous consequences of the flood of plastic smothering ecosystems and poisoning communities around the world, and the global movement that is rising up in response. With engaging original animation, archival industry footage beginning in the 1930s, and first-person accounts of the unfolding emergency, the film distills a complex problem that is increasingly affecting the planet's and its residents' well-being.
Join our panel discussion!
The Story of Plastic documentary is about the real causes of the plastic pollution crisis and the global heroes who are rising up to stop big plastic.  Join our panel discussion with Detroit specialists who work to reduce plastic in our waste stream, in our waterways, and in our communities.  Be part of our Call To Action and #BreakFreeFromPlastic !
When: Friday, April 24 from 3:00PM-4:30PM EST

Panelists: Natalie Jakub, Executive Director, Green Living Science, Co-chair Recycling and Waste Reduction Subcommittee

Erma Leaphart, Associate Organizer, Sierra Club Michigan Chapter and Co-Chair of the Detroit City Council Green Task Force – Water Subcommittee

Sandra Turner-Handy, Engagement Director, Michigan Environmental Council and Zero Waste Detroit

Deborah Stewart Anderson, Engagement Specialist, Michigan Environmental Council and Zero Waste Detroit

Kristin Shaw, Communications + Public Involvement Coordinator, LEED AP O+M

KT Andresky, Campaign Organizer, Breathe Free Detroit

Genevieve Nowak, Director of Environmental Initiative and Affairs, Belle Isle Conservancy and Founding Member of Detroit River Coalition
How To Join Us:
Please join our meeting from your computer, tablet or smartphone.https://www.gotomeet.me/StoryofPlastic/the-story-of-plastic-screening–panel You can also dial in using your phone.United States: +1 (571) 317-3122 Access Code: 957-253-517 Join from a video-conferencing room or system.Dial in or type: 67.217.95.2 or inroomlink.goto.comMeeting ID: 957 253 517Or dial directly: 957253517@67.217.95.2 or 67.217.95.2##957253517 New to GoToMeeting? Get the app now and be ready when your first meeting starts:https://global.gotomeeting.com/install/957253517